About us
A Fritidsbank (leisure bank) is like a library for sports and leisure items. Here you can borrow equipment for leisure activities such as: skis, skates, inline skates, life jackets, snowboards and much more. Each lending period is 14 days.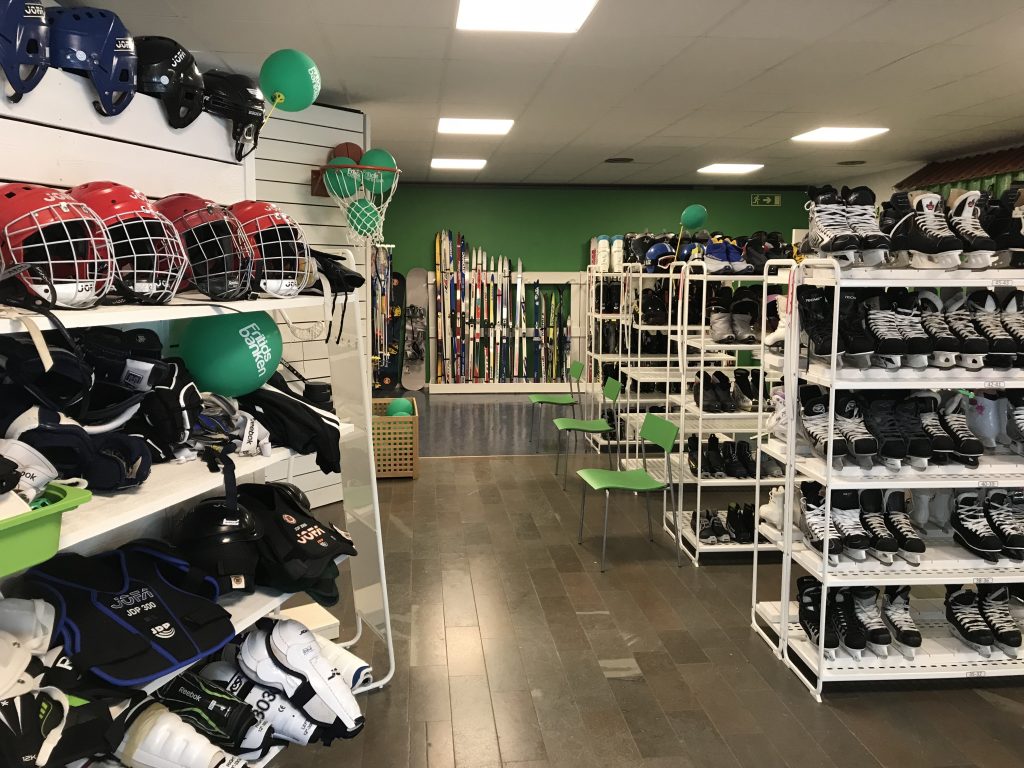 Anyone can borrow and everything is free!
In 2013, the first Fritidsbanken was opened in Deje in Forshaga municipality, 30 km north of Karlstad. It was the deacon Carina Haak who came up with the idea and in a collaboration between Forshaga municipality, Forshaga-Munkfors parish and the project "A more open Värmland", the idea was realised. A lot has happened with Fritidsbanken since then, but the basis remains the same: to give unused equipment a new life and to stimulate active leisure that is free for everyone.
In a short time, we have gone from one Fritidsbank to very many. The vision that there should be at least one Leisure Bank in each municipality is no longer a utopia. One can draw parallels to the emergence of public libraries during the early 20th century. Through them, people's access to culture and knowledge increased. In the same way, we want to help give people access to exercise and health through play and leisure.
Most often, it is the local municipality who sets up a Fritidsbank – or provides support where someone else sets one up. Fritidsbanker are also run by community organisations and associations and the Swedish Church. Sometimes, several parties who come together and run a Fritidsbank in collaboration.
If you are interested in starting your own Fritidsbank, we are happy to help. If you want to be part of the Fritidsbank concept, there are three important rules:
• Anyone can borrow
• Everything is free
• Reuse equipment
It should not cost money to borrow, we have no deposit fee and no delay fee. If something breaks, it can be seen that you have had fun! No fines or compensation claims in other words.
In principle, all equipment is donated to us. Children grow out of their equipment and the adults get tired and people become very happy when they can donate things further. It is better to borrow skates the times you need, then you save both on the environment and your own wallet.
Organisation
The Fritidsbanken brand is owned by Fritidsbanken Sverige, a non-profit association in which all principals who run a local Fritidsbank are members. Fritidsbanken Sverige has a national office in Karlstad with officials who work with Fritidsbanken's development, new establishment, marketing, education, etc. Regionally, there are coordinators employed by the country's district sports federation who to varying degrees act as a sounding board for the principals who run or will start a Fritidsbank.
Fritidsbanken Sverige's board consists of:
Johanna Vilhelmsson, Fritidsbanken Umeå, chairperson
Ewa Linderholm Widell, Fritidsbanken Öckerö, vice chairperson
Björn Lans, Fritidsbanken Bollnäs, secretary
Lenita Franzell, Fritidsbanken Strängnäs, member
Johan Evensson, diocese of Karlstad, member
Per Jutterström, Fritidsbanken Sundsvall, replacement
Inger Lundin, Fritidsbanken Tyresö, replacement
Niklas Bergendahl, Fritidsbanken Sandviken, replacement
Kristina Karlsson, Fritidsbanken Storfors, deputy
Inga-Lill Röhr, Karlstad Diocese, replacement
Financiers
Local Fritid banks are usually financed by municipalities, and it is the local principal who is responsible for ensuring that their leisure bank has funds for staff, premises rent and other expenses.
In 2021, Fritidsbanken Sverige received a grant from:
• The Swedish Sports Confederation
• Swedish Central Association for the Promotion of Sports (SCIF)
• The Crown Princess Couple's Foundation
• Värmland Region
Ethical guidelines and code of conduct
Excerpts from our ethical guidelines:
– Everyone who represents Fritidsbanken must be aware of Fritidsbanken's values ​and act accordingly.
– Fritidsbanken treats everyone equally, regardless of age, gender, ethnicity, descent, social status, or residential address.
– We treat everyone with respect and kindness. We will offer the greatest possible service for our borrowers, depositors, and visitors.
– We strongly dissociate ourselves from racism, sexism and do not accept any form of harassment, abusive discrimination or discrimination based on gender, skin color, religion, age, disability, sexual orientation, political beliefs, national or ethnic origin or other circumstances.
– We work actively for a sustainable society and to reduce the environmental impact.
– Everyone who works at, and / or represents Fritidsbanken, must maintain trust and protect personal data. This means that no one, without the consent of the person concerned, requests, or discloses personal information.
Awards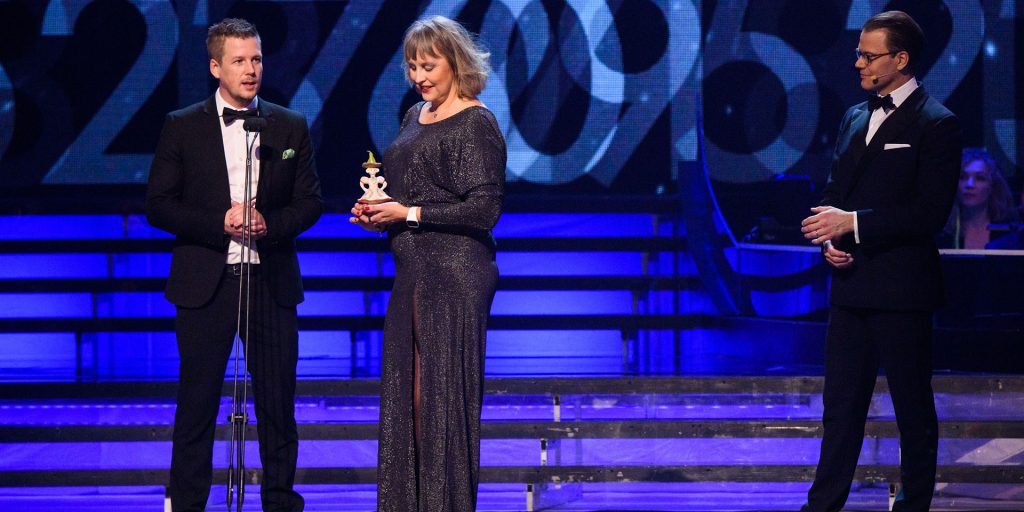 Årets Peppare (motivator), Sports Gala 2020
The year's motivator is awarded by Generation Pep and the Swedish Sports Confederation and will reward a person, organisation, or initiative that in an inclusive and accessible way has succeeded in getting children and young people in Sweden to move. Fritidsbanken received the award from Prince Daniel during the televised Sports Gala 2020. This is the jury's motivation:
"With great commitment and clear goals, they have in a few years become a natural part of people's everyday lives and a force that makes a difference in society.
Their commitment contributes to increasing the conditions for equal health and to more people finding joy of movement. And through close cooperation with the local association life, new groups get the opportunity to find different sports associations in a natural way.
Thanks to a dream of making a difference, new dreams are being born all over our country today.
Årets Peppare 2020 award is given to Fritidsbanken."
Fair Play Award, Sports Gala 2019
At the Sports Gala 2019 banquet, the newly established Fair Play prize was awarded for the first time. The prize was established to commemorate the part of sport where participation, practice and community are greater than achievement itself.
"Fritidsbanken focuses on activity and the environment, two important areas. Their activities enable more people to be inspired to a life on the move in a sustainable and economical way. Here, the equipment does not become an obstacle – but instead Fritidsbanken opens doors so that many more can meet on equal terms. We are therefore extremely proud to award the first Fair Play Prize to Fritidsbanken", said Karl Eklöf, CEO of Stadium Group and award presenter of the Fair Play Prize.
SHINE – Sweden's first innovation competition for physical activity & health, 2018
The Shine Competition competition is organised by Physical Activity for Sustainable Societies (FAHS) with the support of Stockholm County Council and draws attention to new ways that help more people get into physical activity. The prize, which included a prize check of SEK 50,000, was awarded at Allt för Hälsan at the Stockholm Fair.
Karlstad Municipality's Climate Prize 2017, Carina Haak (Fritidsbanken's initiator)
Karlstad Municipality annually rewards private individuals, associations, organisations, companies or municipal administrations that have made innovative efforts that have contributed extra positively in the work of reducing climate impact within the municipality. "Fritidsbanken is based on a model that combines social, economic and environmental sustainability and its successes have passed unnoticed. Today, Fritidsbanken is located in 45 locations and the number is constantly increasing. Fritidsbanken has been in Karlstad since August 2016 and has been a great success with over 2,500 items collected and many loans. None of this would have happened without the person behind Fritidsbanken, Karlstad resident Carina Haak's fantastic idea and initiative. With sensitivity to our societal challenges and concern for her fellow human beings, Carina has shown that a person's idea can make a big difference."
Nyköping's integration award 2017
Nyköping Municipality's integration prize is awarded annually and the public nominates activities that contribute to integration and a multicultural society. "Fritidsbanken's concept of collecting, storing, and lending sports and leisure articles free of charge, much like a library is brilliant. Through the leisure bank, children, young people, and adults have been given the opportunity to try out sports and leisure activities that would not otherwise have been possible. The business strengthens the cohesion in Nyköping and contributes to integration in the best way through its simplicity."
Årets initiativ, the non-profit sector's award for social initiatives 2016
The award was presented by Forum non-profit organisations with a social focus, IBM, and Vinnova at the Civil Society Gala in December 2016. "The solution is through its strong anchoring and integration with the rest of civil society an inspiring example of collaborative economics" (Excerpt from the jury's motivation)
Swedish Children's Sports Award 2015
The Swedish Children's Sports Prize was awarded by the Swedish Children and Youth Sports Network at the Diamond League gala at Stockholm Stadium in 2015. "Fritidsbanken has taken advantage of the cornerstone of children's sports that everyone should have the same opportunity for play and sports. Through its unique system where all equipment is on loan, everyone is given the same conditions and the opportunity to participate." (Excerpt from the jury's motivation)
Environmentalist 2015
Fritidsbanken has been certified as an Environmentalist since 2015. Behind the eco-label is Avfall Sverige and it must draw attention to anyone who in any way reduces waste through their operations.
Recycling Gala Honorary Award 2013
Fritidsbanken was awarded an honorary prize at the national Recycling Gala at Nalen in Stockholm by Avfall Sverige, for the innovative idea around the Fritidsbanken concept.